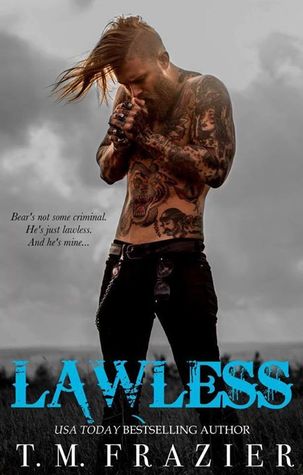 Thia is prim and proper.
Bear is leather and lawless.
It will never work between them.
It's a lie they almost believe...
It is necessary to first read King and Tyrant to fully enjoy Lawless.
We got to know Bear in "King" & "Tyrant" but now we get to fall in love with him. Bear is a dead man walking & he's staying soaked in booze & cheap women. When he's forced back home it turns out to be the last thing he expected. Tia was just trying to keep her family afloat but it was her life at risk now so she did what she had to. No where to go she was going to cash in on a promise made to her long ago little did she know it would turn into a nightmare. Tia & Bear have to figure out what this is between them and if they are strong enough to fight for it. Bear will do what he has to do in order to keep Tia safe. A lot of hot steamy sex. Some disturbing scenes as well. Ending will leaving you wanting more so make sure you have "Soulless" downloaded.